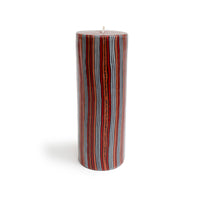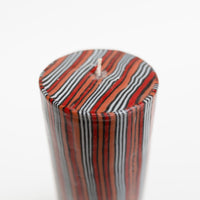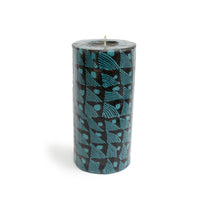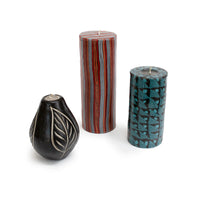 African Candle - Red Stripes Pillar
Our decorative candles are hand-made in the small African Kingdom of Swaziland using the age-old "millefiore" technique. Their artists and craftsmen have worked since 1981 to create candles of exceptional quality.
 
The hard wax veneer forms the outer shell of the candle. Hence the rich, romantic glow of the illuminated exterior as the candle burns. Inspired by the patterns, colors and animals of Africa and at home in a modern home.
The Pillar is striped with red, black, white and orange. 

Dimensions: 8" high x 3" diameter.

A Well Dressed Nest Deserves the Very Best.
Collect the Collections.
All of our creations are part of a grand experiment to release more artful beauty into the world. Your suggestions and requests will be taken seriously, and we welcome them.