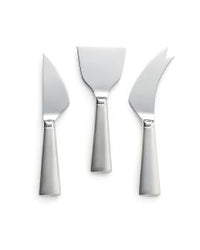 Simon Pearce Hartland Cheese Knife Set with Gift Box
Stainless steel cheese knives coordinate with Hartland flatware's simple lines, contemporary brushed finish and hollow, lightweight construction. The set includes a fork-tipped spear for slicing and serving firm cheeses; a small spade to cut or chunk wedges of hard cheeses; and a flat cheese knife for crumbling soft cheese or shaving firmer cheeses.
Dimensions: ⅜" H x 2⅜" W x 6¾" D
A Well Dressed Nest Deserves the Very Best.
Collect the Collections.
All of our creations are part of a grand experiment to release more artful beauty into the world. Your suggestions and requests will be taken seriously, and we welcome them.