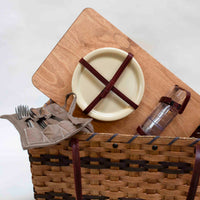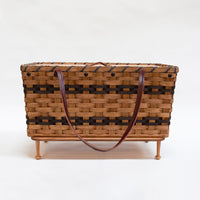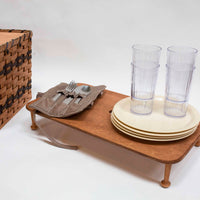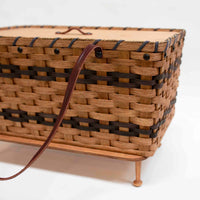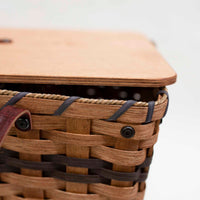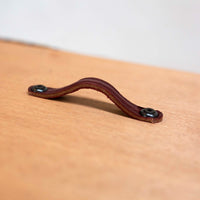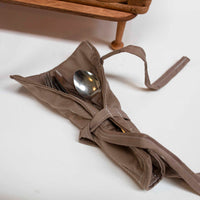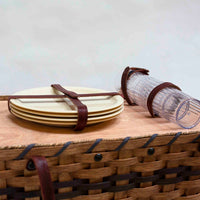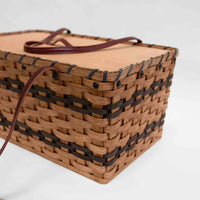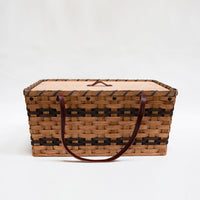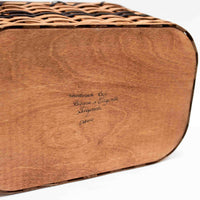 Large Classic Picnic Basket - with Utensils, Tumblers & Plates
Handmade for JG SWITZER by the Amish, this 20-piece picnic set is the perfect picnic set for a 4-person party. Basket is made of wicker and comes with a small table stand to keep your basket clean in the woods or at the beach.  Top is removable. 
Great attention to detail taken and each basket is signed on the bottom by the family that created it.
Set includes: 4 cups, 4 plastic tumblers, set of 4 knife, fork and spoon. The set is designed to be re-usable and snaps neatly inside the basket for a nice fit. Do NOT MICROWAVE dishes. Wash with soap and water. 

DIMENSIONS: 22" wide x 13" deep x 10.5" high. Four plate circumferences 9" rounds and four plastic tumbler glasses are 5" high.
A Well Dressed Nest Deserves the Very Best.
Collect the Collections.
All of our creations are part of a grand experiment to release more artful beauty into the world. Your suggestions and requests will be taken seriously, and we welcome them.