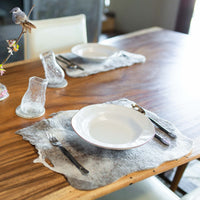 Hand-Cut Felted Wool Placemat
Each placemat is hand cut and hand-designed, so no two will be exactly alike. Our felted wool fabric is milled at our workshop in West Sonoma county, CA.

Dimensions: Live, rough edging so each placemat is cut differently, but will fit approximately 17" Long x 13" High. May be used as a dish drying mat, trivet, or placemat.
Care Instructions: Most stains can be removed by blotting with water. Do not machine wash, please, but if you must, wash cold and damp dry or preferably wash/dry in wool cycle. Expect up to one inch shrinkage if washed. Felted wool makes an excellent placemat since it is antimicrobial and mold resistant, meaning please resist the urge to wash and they should last for many years.
A Well Dressed Nest Deserves the Very Best.
Collect the Collections.
All of our creations are part of a grand experiment to release more artful beauty into the world. Your suggestions and requests will be taken seriously, and we welcome them.