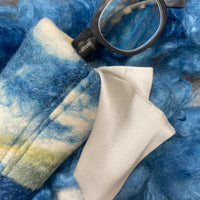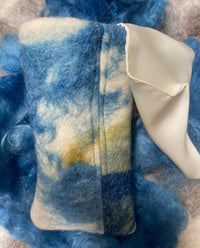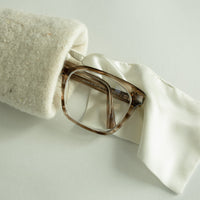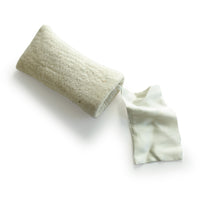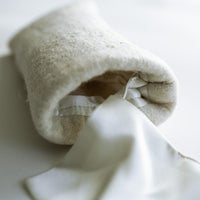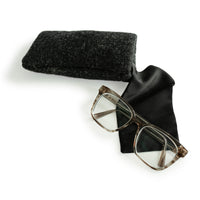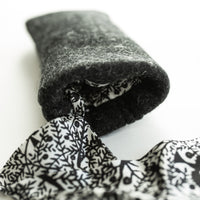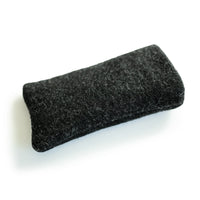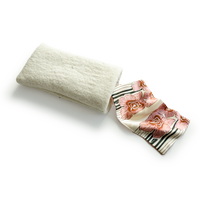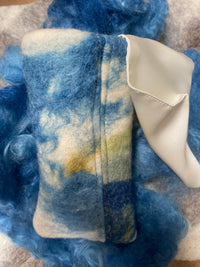 Botanical Blue Eyeglass Sleeve Felted Wool with Silk Lining
Handmade by JG SWITZER from local, Fibershed wool and indigo and other plant dyed wool. Comes with wonderful hand sewn details: 100% real, silk charmeuse lining to act as a protective sleeve for your favorite sunglasses or eyeglasses. Ana Maria has sewn a silk cleaning cloth so you'll never lose it - to clean most glasses. Pure silk is by far the softest natural fabric and it will not leave hairline scratches on sensitive surface materials. 
This protective felt eyeglass sleeve is for prescription, readers, and fits most average-sized sunglasses. Our silk is available in solids and printed silks are custom fabrics designed in-house. Also available in "Bird Song" black and white and a pink Art Deco roses silk is our own Now Voyager silk print. 
Find our other colors here. 
Dimensions: 7" Long x 4" Wide
Note: Please check with the manufacturer of your eye/sunglasses to make sure they are OK to clean lenses with silk! 

A Well Dressed Nest Deserves the Very Best.
Collect the Collections.
All of our creations are part of a grand experiment to release more artful beauty into the world. Your suggestions and requests will be taken seriously, and we welcome them.