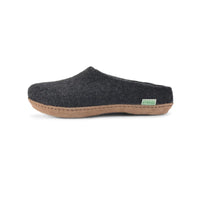 Men's Wool Slippers Made In Kyrgyzstan
Handmade by a women-owned and operated felt producer in Kyrgyzstan, we looked far and wide for the perfect warm, cozy winter slip on, and these Kyrgies are the ticket.
Handcrafted using natural wool felt, these shoes include a thick leather sole that has been specially molded to give support to the base of your feet, as well as additional felt cushioning. The low back makes for easy slip-on and use in the comfort of your home or outdoors.
Men's size range: 9-12.5 M (EU 42-45)
Men's Sizes Offered: 9-9.5 M (EU 42), 10-10.5 M (EU 43), 11-11.5 (EU 44), 12-12.5 (EU 45)
A Well Dressed Nest Deserves the Very Best.
Collect the Collections.
All of our creations are part of a grand experiment to release more artful beauty into the world. Your suggestions and requests will be taken seriously, and we welcome them.