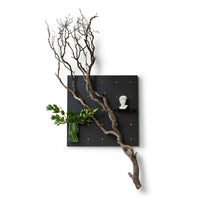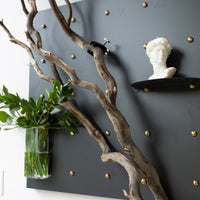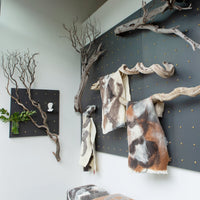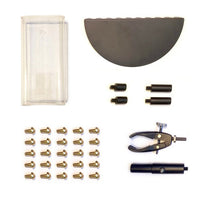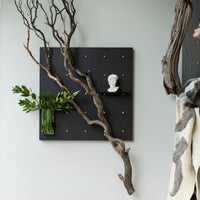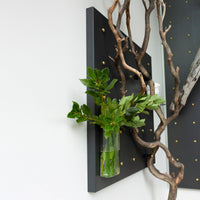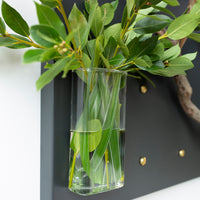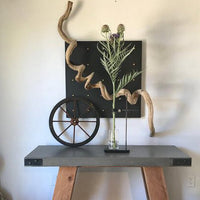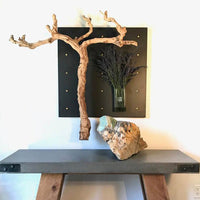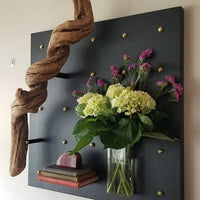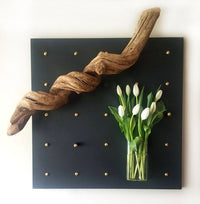 The Wall Panel by Artefact
Our favorite home item for the Spring!  Designed as an architectural and artistic addition to any wall, The Wall Panel is a darkened steel canvas ready for your three-dimensional creations. The panel measures 30" square.  Each component can be easily re-located by hand and the vase, shelf and clamp attachments can be moved wherever you desire.
Versatile as a centerpiece in a foyer as a wall statement this is art on a wall, and is designed to bring nature indoors. Dried Flora not included but can also be purchased separately. Please inquire if desired. 
This wonderful Wall Panel is a darkened steel with brass screws.  Starter kit includes:

Powder Coated 30" x 30" Wall Panel with hanging rail

Threaded clamp with telescoping rod to grasp flora, 
Block glass Vase- 
8" tall x 4" wide x 2" deep
Shelf attachment -10" wide x 5" deep half circle 
Steel standoffs and 25 Brass Screws
A Well Dressed Nest Deserves the Very Best.
Collect the Collections.
All of our creations are part of a grand experiment to release more artful beauty into the world. Your suggestions and requests will be taken seriously, and we welcome them.