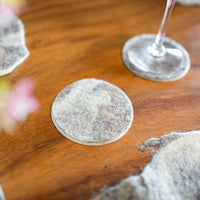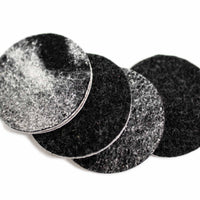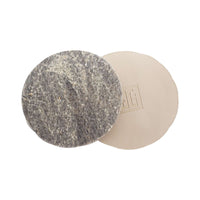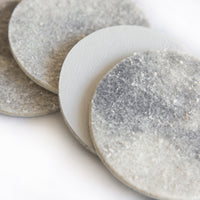 Wool & Leather Coasters
Our wool & leather coasters are best sellers and are made here in Sonoma wine appellation country. Our felted wool fabric is milled at our workshop in West Sonoma County, CA. Each coaster is hand designed and painted with locally sourced wool, so no two will be exactly alike. The wool is backed with an elegant leather backing, so coasters can be used on either side. Four Coasters to a bunch.

Dimensions: 4" diameter.
To clean: blot with water. Do not machine wash, please.
A Well Dressed Nest Deserves the Very Best.
Collect the Collections.
All of our creations are part of a grand experiment to release more artful beauty into the world. Your suggestions and requests will be taken seriously, and we welcome them.