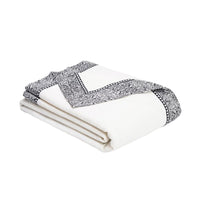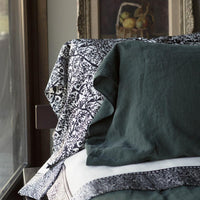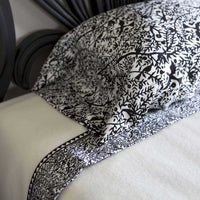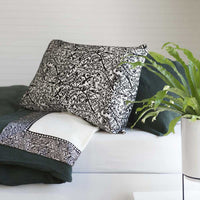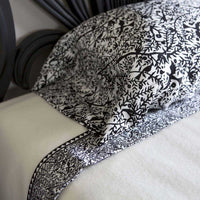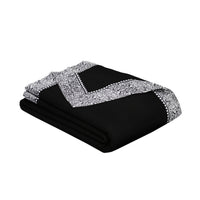 Emilie Silk Framed Wool Blanket
Emilie blankets are milled in England and Viennese-inspired. Milled at the most esteemed mill in the world, operating since 1783 with a Royal Warrant.
Queen and King sizes are offered in the finest, soft 100% Merino or blend of cashmere and lambswool. The finished frame is the JG Switzer signature 4-inch 100% silk charmeuse in a custom pattern found nowhere else in the world. The 100%  Merino is 400 GSM.
Emilie is a small tribute to Emilie Floge, businesswoman, designer, and lifelong companion of Gustav Klimpt.  She was a key textile designer at the Weiner Werkstatte, a 1900's Viennese workshop of 50+ artisans that set the stage for Art Nouveau, art deco, and impressionism and left the world a more beautiful place. Emilie is an heirloom blanket designed to be passed from one generation of beds to the next.
Hand-sewn, mitered corners means each piece has its own unique character.
We're now offering free monogram services on all JG SWITZER blankets: including Baby Blankets, Porch Blankets, JG Classic blankets, & more. All items with monograms are final sale.
In your cart under SPECIAL INSTRUCTIONS please specify which piece you'd like monogrammed and choose: Script vs 3-Letter Deco Monogram
A Well Dressed Nest Deserves the Very Best.
Collect the Collections.
All of our creations are part of a grand experiment to release more artful beauty into the world. Your suggestions and requests will be taken seriously, and we welcome them.