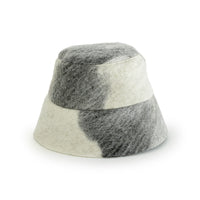 THE JG BUCKET in Milky Way Felted Wool Fabric
Introducing JG SWITZER fashion! Made with our signature felted wool fabric, each hat is hand-painted with wool from local or domestic breed sheep. Just in time for winter, 100% wool will keep you cozy in the colder months while still being breathable. Lined with the highest quality 100% Mulberry silk we could find for all day comfort. 
Made by hand in Northern California, each JG BUCKET hat is one-of-a-kind. Please expect some variation in color and pattern. 
Style: The brim can be worn as is or folded up in front for a timeless look. To accommodate smaller heads, our Small has a slightly shorter brim that may not allow for folding. 
Sizing: Available in Small (S), Medium (M), Large (L) 
Lining: Lined with 100% Mulberry silk in IVORY. 
Please note: We understand picking the correct size can be a challenge for online shoppers. Feel free to contact us and ask about sizing before you buy. If you ordered the wrong size, contact us right away and we can help you exchange it for a better size, or store credit. No refunds, as per our return policy.
A Well Dressed Nest Deserves the Very Best.
Collect the Collections.
All of our creations are part of a grand experiment to release more artful beauty into the world. Your suggestions and requests will be taken seriously, and we welcome them.