Posted on August 23 2023
WRITTEN BY:
AVA BEHAR
PHOTOGRAPHY BY:
LAUREN HEMMINGSEN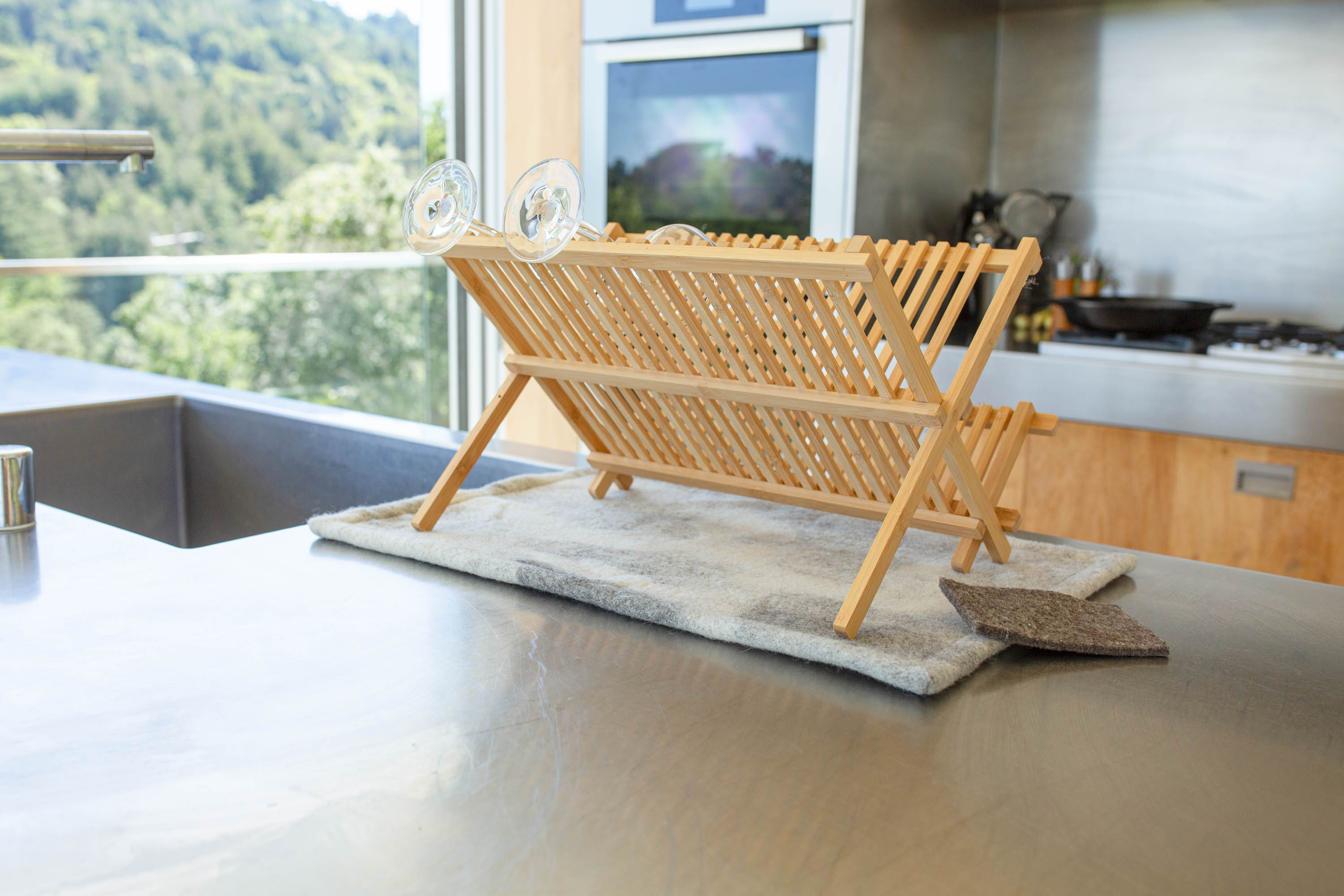 You Can Change the World: One Sponge at a Time
If you're looking for a natural, eco-friendly, and durable way to clean your dishes then you're in the right place. Made from 100% natural wool sourced from local sheep farmers, our wool dish sponges are biodegradable, machine washable, and easy to use. Most dish sponges available are made from plastics, synthetic materials that contribute to landfill and don't help the environment nor our health.
At the core of JG SWITZER is our desire to share our wool with the world. We offer a better alternative that is 100% natural, biodegradable, and looks good on your kitchen counter.

What's Wrong with Synthetic Sponges?
Smelly little bacteria beds! Part of what fueled us to make our wool dish sponges came from being disappointed and frankly grossed out by plastic sponges over the years. We're all familiar with the lingering smell of a synthetic sponge that's at the end of its life, the smell that remains on your dishes and even your hands after a load of dishes. We hate to be the bearer of gross news, but this smell is actually caused by trapped food particles that have started to decay- yuck. Beyond the smell, synthetic sponges are a breeding ground for bacteria. When a synthetic sponge is left damp, it only takes a few hours before bacteria begin to grow.
If the bacteria-breeding-ground wasn't enough to convince you to retire your synthetic sponges, then let's talk about the environmental impact. Some estimates have the USA filling the equivalent of the Empire State Building with the 400 million discarded synthetic sponges every year. Then there's the added issue of microplastics that break off from the sponges and make it into our sewage systems and worst of all, our oceans. It's time to lay your synthetic dish sponges to rest.

Wool's natural properties give it many advantages over synthetic fibers. Wool sponges are:
Antibacterial: Wool sponges have natural antibacterial and antifungal properties that prevent odors and mold growth. This makes wool sponges safe to use for longer periods of time. Simply put- sheep don't get moldy when it rains. The same principle applies to their wool.

Eco-friendly: Wool comes from nature and returns peacefully. Wool is a biodegradable resource that does not contribute to plastic pollution or microfiber shedding. No coatings of Triclosan, an EPA registered pesticide that doesn't help environmental health. Wool sponges can last for years and can be composted at the end of their life cycle.
Durable: Grows stronger with use. As you use the sponge, you are wet felting the wool fibers which continue to bind to each other with soap and abrasion. You continue to wet-felt the wool fibers together by washing it in the dishwasher. Wool is strong and resilient, able to withstand repeated washing and drying. Wool sponges do not fall apart or lose their shape, unlike synthetic sponges that tend to disintegrate over time. Wool sponges also retain their absorbency and cleaning power even after many uses.
Gentle: Wool is soft and gentle on your dishes, pots, pans, and countertops. It does not scratch or damage your surfaces, unlike some abrasive synthetic sponges.
How We Make Our Wool Sponges
We start by sourcing 90% of our wool from local and domestic sheep farmers that practice ethical and humane animal husbandry. The wool is washed and processed, and then arranged by color. We make two varieties of sheep's wool sponges from undyed wool- in Cream and Natural Grey. Our Garden Sponges are layered with dyed red, orange, or green wool on top for a little seasonal fun to brighten up a kitchen. Once layered to the desired thickness for a long-lasting sponge, the wool is then fed through our industrial size felted machine, which we call "Luna". Luna strengthens the wool particles to create a felted wool fabric that is both dense and durable. The fabric is then hand cut by our team in house, packaged with sustainable materials, and ready for our customers - which we call The Flock - to enjoy.
Felted Wool Dish Sponge FAQ's
How do I clean my wool dish sponge?
Clean your sponge by simply throwing it in the dishwasher as needed. Keep in mind that your sponge may shrink a bit after many washes, but that will not affect its usefulness. It is actually growing stronger with use when it shrinks since it is getting wet-felted as the wool fibers co-mingle.
How often should I clean my wool sponge?
Wool is antibacterial and therefore odor-resistant, so wool sponges will require less cleaning than synthetic options. Cleaning frequency depends on our habits and will differ from person to person, but we recommend cleaning your sponge every 3-4 weeks. When cleaning is required, simply put your sponge in the dishwasher when you're already starting a load.
How should I dispose of my wool sponge when I'm ready for a new one?
Wool is biodegradable and compostable, so if the wool is undyed like our natural grey or cream sponges, you are safe to compost or even bury it in your garden. The colored sponges (red, green, orange) are biodegradable but not compostable due to the dye in the colors.
Make the Switch, Try Our Wool Sponges
If you are interested in trying our wool sponges for yourself, you can order them from our website or visit our workshop and retail store in Sebastopol, CA, located in the Barlow. We invite you to try them out for yourself and share your experience.
If you've tried our sponges and would like to share feedback, please email service@jgswitzer.com and we'll give you a free sponge with your next online or in-person purchase.