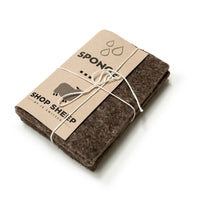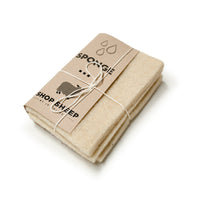 Felted Wool Dish Sponge - 3 Pack
Felted in our workshop, these 100% natural wool sponges are biodegradable, machine washable and easy to use. They are felted from local, climate-beneficial wool from our local Fibershed. Three sponges to a pack. Ideal for dishes or light cleaning. Not for heavy scouring or pan cleaning. Each pack will have variations as sponges are hand made and hand cut from natural wool, felted fibers.
Looking for a colorful sponge? Check out our 3-pack of Garden Colors: Lettuce Green, Tomato Red, Carrot Orange
Dimensions: 3" x 4" - 3 to a pack 
Clean: Dishwasher safe.
A Well Dressed Nest Deserves the Very Best.
Collect the Collections.
All of our creations are part of a grand experiment to release more artful beauty into the world. Your suggestions and requests will be taken seriously, and we welcome them.